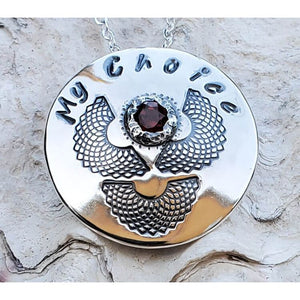 My Choice, A Necklace
You cannot claim to be a democratic country the way the United State does and then turn over the basic human right of autonomy over ones own body, to over half of their population. They have set the clock back 50 years.
This necklace "My Choice" has come from my need to voice my anger. The main pattern is a repeated lace collar worn by Supreme Court Justice Ruth Bader Ginsberg. She fought for women's rights and would be mortified by what is now happening.
My Choice is stamped across the top for all to see where you stand. The pendant is also set with a 4mm faceted garnet in the middle to symbolize the blood of all the women and girls who have lost their lives in the past. The oxidized finish shows the details with in the stampings.
A 22" sterling silver necklace chain comes with each pendant. They are made to order with delivery on these items being 2-3 weeks depending on my other work.
40% of each necklace sold will be donated to the Women's Reproductive Rights Assistance Program at wrrap.org. WRRAP is a non-partisan, nonprofit organization assisting women who are financially unable to pay for safe, legal abortions or emergency contraceptives. They work directly with pre-qualified, reputable reproductive health clinics across the U.S. on behalf of the person in need. WRRAP does not demand repayment of the funds.
*Materials: Sterling Silver, Garnet, Oxidized, 22" Sterling Silver Necklace Chain
*Measurements: 1" Across
*Oxidization is not completely permanent! The pendant will change in appearance over time, especially with daily wear. While it has received a chemical application of Liver of Sulfur as a surface treatment, it will wear off in the high areas over time causing a patina that is unique to the piece.

All Roxanne Brown Jewellery items come gift wrapped and ready for gifting.
Photography by Roxanne Brown