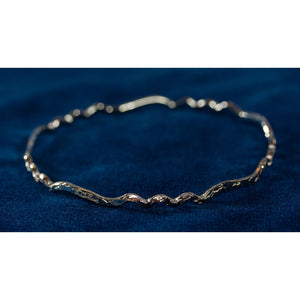 I'm Waving At You
A uniquely patterned bangle hammered with tiny squares around the face of it while also shaped into a fabulous wave pattern. Pair it up with any one of a number of other bangles in your collection or wear it by itself. Either way it will stand out.
*Materials: Sterling silver
*Measurements: 8" around the inside. 2.05mm across the face.
All Roxanne Brown Jewellery items come gift wrapped and ready for gifting.
Photography by andreanorbergphotography.com