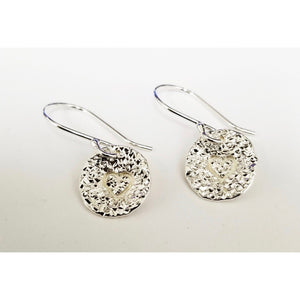 Heart Of The City Earrings
Celebrate the people in your life and present them with a piece of the Heart Of The City Collection.

These sterling silver heart earrings are a gentle reminder that no matter what we have gone through in the past 3 years, we will always be the beating heart of our own world.

Each charm has been hand textured and left rough to symbolize the times we are in at this moment. Some people are doing well, others are having a rough time and essential workers have gone above and beyond but through it all their hearts shine bright.

Deep in the middle is a heart that has been hammered in so deeply that it transferred through to the back and created a curve to show that we may bend but we will not break.

These earrings can be ordered as either shiny silver or with an oxidized finish grey/black or random colours of golden tones to pinks, blues and purples. Each pair of earrings are handmade as ordered with slight variations in each pair. Oxidized finishes are random and accuracy is not always guaranteed but I do my very best to get them correct.
*Material: Sterling Silver, Oxidization on some.
*Measurements: 1 5/16" long x 5/8" wide.

There is 1 pair of high shine earrings and one oxidized blue pair of earrings available right now. If you would like a randomly coloured pair of hearts then order the high shine and leave a note in the "Special Instructions For Seller" Box in your cart.

*Oxidized finishes are not completely permanent! The earrings will change in appearance, especially with daily wear. While it has received a chemical application of Liver of Sulfur as a surface treatment, it will wear off in the high areas over time causing a patina that is unique to each piece.

All Roxanne Brown Jewellery items come gift wrapped and ready for gifting.
Photography by Roxanne Brown