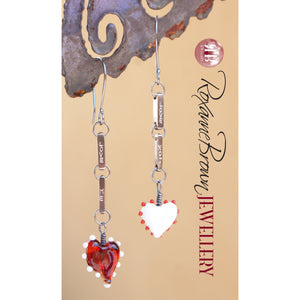 He Loves Me, He Loves Me Not
What woman doesn't remember playing with a flower as a child and pulling petals from it while reciting "He Loves Me, He Loves Me Not" with the hope that every last petal ended with "He Loves Me". This pair of earrings pay homage to that childhood game with beautiful handmade art glass beads by Glass Artist Patricia Thomas (USA). Why have two hearts the same when you can mix it up a bit. 
Sterling silver bars hand stamped with the words "Love Me" with a clear red heart and white dots and the other earring stamped with "Love Not" ending with a solid white heart with red dots. The final touch is the oxidized finish to darken the parts. 

*Materials: Sterling Silver, Handmade Art Glass Beads by Glass Artist Patricia Thomas with copper wires
*Measuring: 3 3/4" long x 3/4" wide.
All Roxanne Brown Jewellery items come gift wrapped and ready for gifting. 
*An oxidized finish is not completely permanent! The earrings will change in appearance, especially with daily wear. While it has received a chemical application of Liver of Sulfur as a surface treatment, it will wear off in the high areas over time causing a patina that is unique to the piece.
Photography by Roxanne Brown