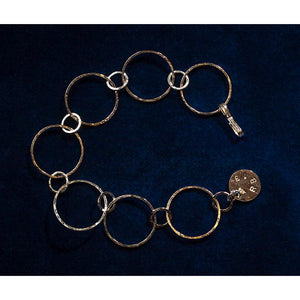 Around & Around We Go Bracelet
Hand shaped circles of sterling silver create the basis for this light bracelet. There is a slight scratch texture on the entire bracelet and it is finished off with an hook closure and round signature charm on the opposite end.
*Materials: Sterling Silver
*Measurements: 7 3/4" around the inside.
All Roxanne Brown Jewellery items come gift wrapped and ready for gifting.
Photography by andreanorbergphotography.com